[ad_1]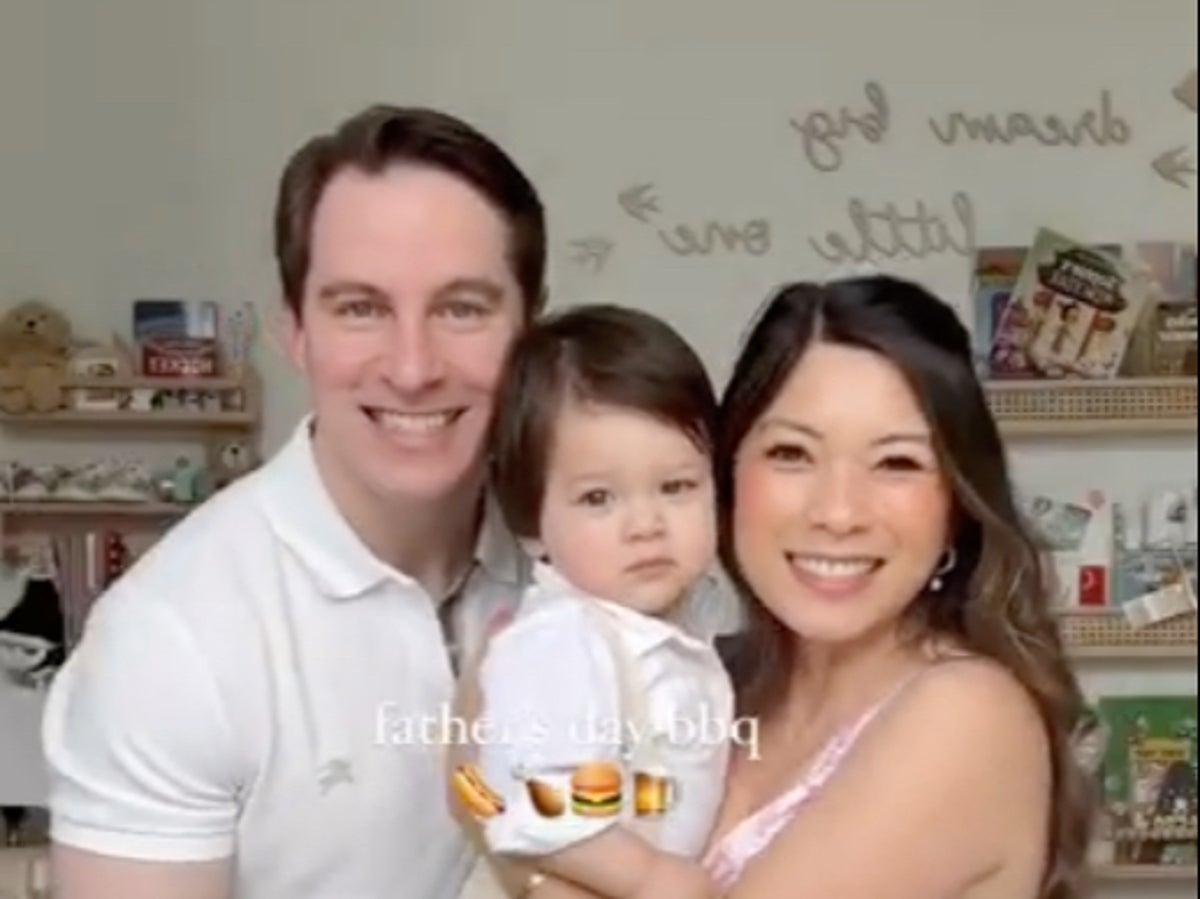 Travel influencer Christine Tran Ferguson has revealed that her 15-month-old son, Asher, has died.
The New York City-based blogger shared a series of photos and videos of her son on Instagram on Tuesday announcing that the child had passed. In the caption, she began by calling her baby her "little angel," and reflecting on the "joy" that he brought to her and her partner Ryan Ferguson's life.
"I have never known how much love and happiness I could have until you came into our life," she wrote. "You are the smartest & happiest little boy I've ever known. You were going to do amazing things and change the world, I just know it."
She went on to describe some of the qualities about her son that she'll continue to remember and miss.
"I miss your little laughs, the way you stick out your tongue when you giggled, the way you picked up your food with your tiny chubby fingers, your little dance moves, how you clapped your hands, your little feet kicking a ball, the way you grab the hockey or golf sticks for dada, you just always knew how to make everyone smile," she wrote.
Ferguson then expressed that her "heart is utterly broken and shattered into a million pieces," before explaining that she's still trying to "make sense" of the loss.
"I'm still in shock, I just want to wake up from this unimaginable nightmare and have you back in my arms," she continued. "Why is this happening to us, why Asher?? You did not deserve any of this. Losing you is the hardest experience mommy and daddy has ever had to endure."
While she didn't specify a cause of death, she revealed on Instagram earlier this month that Asher was "fighting for his life in the ICU".
In the Instagram post announcing her son's death, she proceeded to describe her days without him so far as "torture" and her pain as "unbearable". She confessed how she's struggling to imagine the rest of her life without Asher.
"I still feel like you're going to reappear but our home is so quiet and empty without you," she continued. "Part of me has died with you. I'm so heartbroken, with no idea how to live a life without you. I can't even put into words how loved you are. I can't stop seeing your big smile everywhere I go, I hear your laugh and babbles all day and it just breaks my heart you're physically not here."
She emphasised that not other feelings could compare to the pain of "losing a child", before saying she was "so sorry" to her son for what he had to go through. Ferguson continued to express disbelief over her son's death and her hopes to see him "in her dreams".
"I would give anything to take your place, to go back in time. I still can't believe you're gone, why did you have to go so soon?? We had a future as a family I constantly think about & it's just gone," she added. "I miss running my hands through all your hair, biting your chubby little feet, but most of all I ache for your hugs and kisses so much!! I pray I get to see you in my dreams every night. I just want you back so badly, but you're never coming home and it's killing me."
Ferguson continued her tribute in the comments of her post, with the influencer acknowledging that she and her husband feel "so lost without" their child.
She confessed that while her son was in the NICU, she "prayed" for him to get better. She also added that while her child was gone, she would continue to remember him.
"I prayed for the miracle, for YOU to be the miracle, for you to come back to us. My heart aches for you every second," she wrote. "You will never be forgotten. We will take you everywhere we go. We love you so much my sweet boy, I pray I get to see you soon."
Ferguson, who has more than 519,000 followers, concluded her comment by thanking her followers for all their kind messages about Asher. She then asked her some "privacy during this difficult time".
"Thank you for all the overwhelming love and support. He brought us all so much joy and happiness everyday," she continued. "I just ask for privacy during this difficult time as we're still in shock and still have no answers to this unbearable nightmare."
In the comment of the post, many of Ferguson's friends sent her messages of condolences, while others expressed how they could relate to her pain of losing a child.
"The pain of losing a child is absolutely unbearable and it pains me so much to see another parent going through what I did. I absolutely cannot believe that both our boys, with the same name, have left us within a span of months," influencer Melissa Koh, whose son, Asher, died at age two in April, wrote. "Your Asher reminds me so so much of mine..This is so so cruel and there are absolutely no words to make things better."
"Thinking of you during this difficult time. He's your guardian angel forever," another fan wrote.
A third Instagram user commented: "Christine I can't even imagine what you are going through…Sending love and prayers to you and your family. please please please reach out if you need anything at all."
In April of this year, Ferguson celebrated her late son's first birthday. At the time, she shared photos on Instagram of herself, son, and husband at a outer space themed birthday party.
"Still can't get over Asher's First Trip Around the Sun!" she wrote in the caption. "It's insanely crazy how fast a year goes, I blinked and you're now a toddler…But also so happy to see you grow & celebrate your first year!
Ferguson is the founder of popular travel website  Tour de Lust, where she often shares advice for trip planning. Along with a large following on Instagram, she also has more than 274,000 followers on TikTok.
The Independent has contacted Ferguson for comment.


[ad_2]

Source link