The Suzuki XL-7 Managed to Fit Seven Seats in a Compact SUV Body
Ah, Suzuki. The automaker was sort of the Japanese Hyundai of the late 1990's and the early 2000's. It sold cheap but well equipped cars with a great warranty; the quality may not have been up to snuff compared to the likes of Toyota and Honda, but it wasn't terrible. And there were some unique offerings too, from the wannabe sport sedan Kizashi to the Verona and its Porsche-designed I6 engine. Another unique offering was the Suzuki XL-7.
The Suzuki X-90 Is Either Awfully Brilliant or Simply Awful
In case you missed it:
Taking a compact SUV and making it seat seven might not sound weird now, but back in the late 1990s when the XL-7 was introduced, it was unique. The XL-7 originally started as an offshoot of the Grand Vitara SUV, which is to say that it was pretty much a stretched version of it. This meant it could seat seven, but it also had some off-road chops. It had body-on-frame construction and could also be equipped with a four-wheel drive system that came with a low range.
To get the third row, Suzuki stretched the Grand Vitara's wheelbase 12.6 inches and increased the overall length 19.1 inches. While that sounds impressive, the XL-7 was still small even with the increased dimensions; it measured in at 183.7 inches long. To put that size in perspective, imagine Honda dropping a third row into the current CR-V.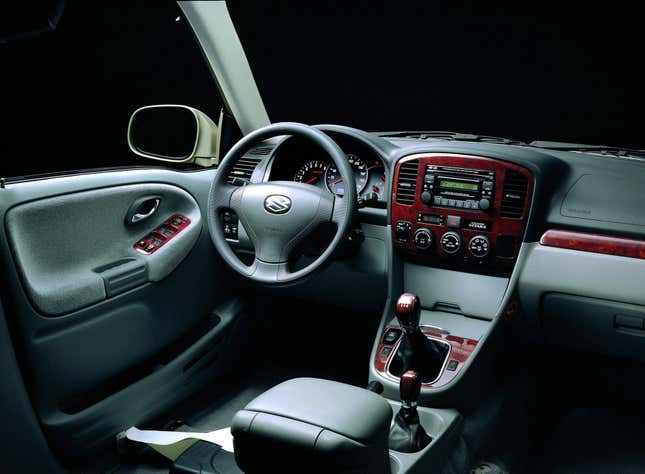 That increased length and weight came with more power as well. Suzuki increased the Grand Vitara's V6 by 0.2 liters to 2.7. That was enough to give the engine 170 horsepower and 178 lb-ft of torque. You had the choice between a four-speed automatic or a five-speed manual. When it all came together, you had the cheapest SUV for sale in the U.S. that had standard seating for seven.
And it was cheap. Starting prices for the XL-7 in basic trims with four wheel drive was $21,499 in 2001. If you wanted to splurge a bit and add things like a sunroof, leather seats, a CD player and ABS you'd still only be at $25,074. Today's automakers would never make something with so many features for so cheap.
While the XL-7 seemed like a solid value, not everything was great. Like most SUVs with a third row, cargo capacity was compromised. With the third row up, there was just over six cubic feet of cargo space between the third row and rear hatch; that space grew to 37 cubic feet with the second and third rows folded. The rear suspension was softly dampened, which made for a slightly wallowy ride with just the driver in the XL-7.
But as the years went on, sales started to dwindle, most likely due to better SUVs and crossovers the same size as the XL-7 coming to market. So a new XL-7 was introduced for the 2007 model year.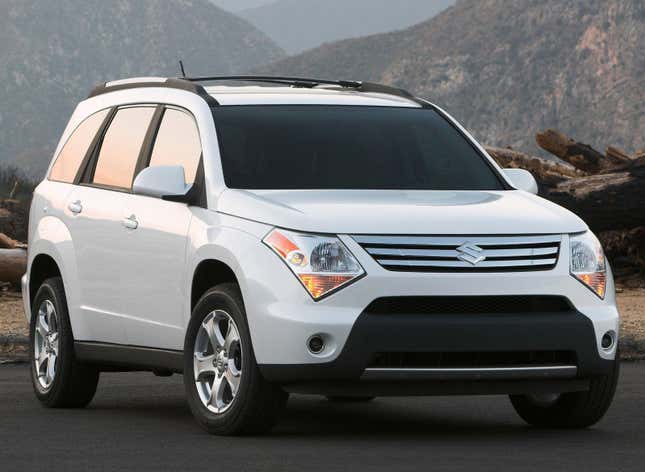 This new XL-7 was developed in conjunction with GM, so you know what that meant: GM running gear through and through. Aside from a name change to XL7 — the hyphen was dropped — this new XL7 rode on GM's Theta platform which also underpinned the Chevy Equinox, Pontiac Torrent and Saturn Vue. The XL7 was the only version of the Theta-platformed crossovers that came with seating for seven.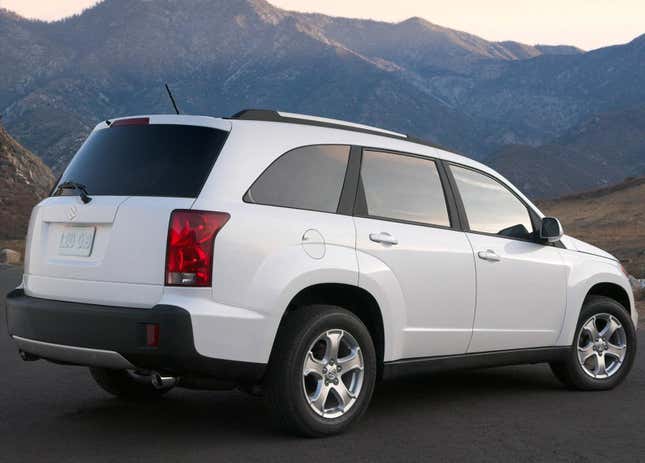 This new XL7 grew in every way compared the old body-on-frame version. It gained 10 inches, just over two inches in width, and an inch of height. Power increased as well. One of the positives of the Suzuki/GM relationship was Suzuki gaining access to GM's engine technology. Under the hood of the XL7 was GM's 3.6 liter High Feature V6. It made 252 hp and came paired with a five-speed automatic. But the XL7's newfound crossover underpinnings meant losing its off-road goodies. Its four-wheel drive system gave way to a front-wheel biased all wheel drive system, for instance.
It was still a pretty good value, though. Loaded out, you'd get features like side-impact airbags, leather seats, wood trim, navigation, sunroof and a rear DVD entertainment system for just over $32,000; basic XL7s started at $24,884. But that partnership with GM came with negatives, mainly a step down in quality.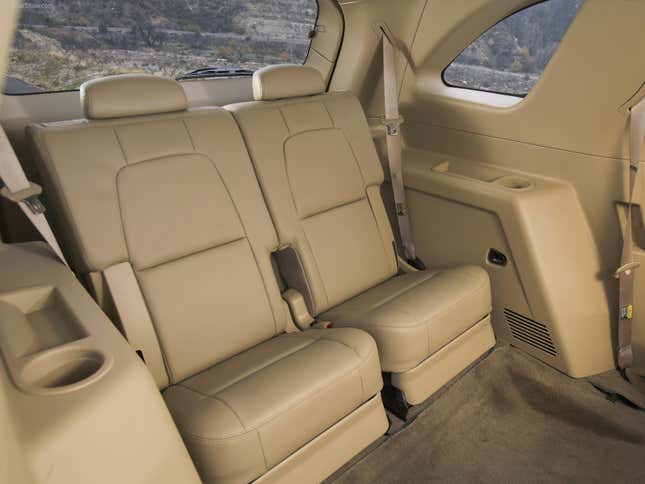 Some outlets mentioned that the quality of some materials were actually worse than the Grand Vitara-based XL-7 it replaced. The Theta platform also made a third row that was oddly packaged and hard to get into.
Ultimately none of this mattered, as not enough buyers showed up at Suzuki dealers to buy these things. From 1998 t0 2009, 170,588 XL7s found owners. Sales never reached 30,000 annually; 2002 was its best year with 27,295 sales. The XL7's demise coincided with Suzuki America's downfall in the late 2000s and its eventual pullout of the American market. With the XL7 ending production in 2009, it was the last vehicle jointly developed between GM and Suzuki.
While the XL7 was never a bad vehicle, it sort of sucks to see how it started as something unique only to evolve into just another vehicle that blends into the crowd to chase sales. We'll never see anything like the original XL7 in the U.S. ever again. A cheap body-on-frame SUV with four-wheel drive, low range and seating for seven that's available with a manual. That's the stuff of dreams.