The 2024 Jeep Wrangler Lets You Live Your American Dream
When I moved to America from the UK, I had a few preconceptions about this fair country. First, I assumed high schoolers all wore the uniforms of their respective pastimes everywhere they went (like cheerleading or playing ball). Secondly, I thought everyone drove around in Jeep Wranglers with the roof off. Now, after driving 'round in a Wrangler with the roof off, I can't believe this particular teen movie trope isn't real.
Mitchell Slaggert's Rainbow-Colored Jeep Wrangler
Full disclosure: Jeep flew me out to St. George, Utah, and put me up in a very nice hotel for a few nights. There, they fed me and let me get to grips with various models in the 2024 Wrangler lineup.
What's New On The 2024 Jeep Wrangler?
For 2024, Jeep updated the entire Wrangler lineup. There are now eight trims to choose from, four 4×4 systems to utilize and as many different powertrain options – which range from the 270 hp turbocharged inline four all the way up to the 6.4-liter V8 in the Rubicon 392.
On the outside, Jeep has made some styling updates on the new model, but they are minimal. It remains unmistakably a Wrangler. There's a new grille up front, which has shorter but wider slats across its seven slot design. The body color also now bleeds into the grille, which looks pretty neat.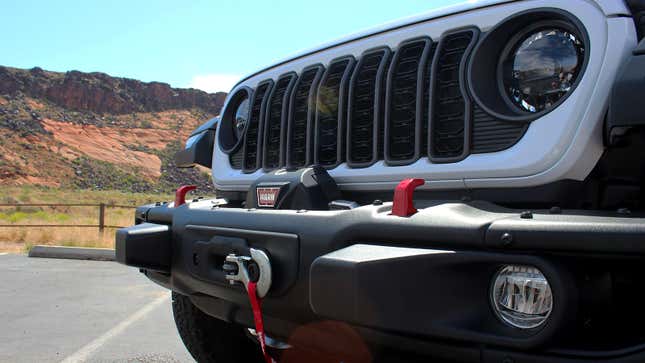 Inside, models including the new Rubicon X come with standard electronically adjustable seats, which Jeep says are watertight so when you test the car's 34-inch river fording capabilities you won't be in for a shock if you move your seat in the process. Also, for the first time, Jeep will offer the Rubicon and Rubicon X models with an optional Warn winch fresh from the factory. To incorporate this, the firm has updated the front crash cans, meaning that the winch fits flush with the front end – it looks clean and has an 8,000 pound capacity.
From next year, the Jeep Wrangler starts at $31,895 for the two-door Sport, plus destination fees of $1,750. For that you get more kit as standard compared with the outgoing model. There's a new 12.3-inch touchscreen that forms the center of Jeep's interface, and the company will also throw in a two-year subscription to its new trail mapping tech. Models like the Rubicon can be ordered with a Dana full-float rear axle, which Jeep says means the Wrangler can tow up to 5,000 pounds. Impressive.
But not everyone that buys a Wrangler takes it towing, and not everyone will hit those gnarly trails that Jeep designed it for. Different people buy a Wrangler for all manner of reasons. So, I put on my most American hat and went to explore some of the most important reasons I think you would buy the iconic Jeep.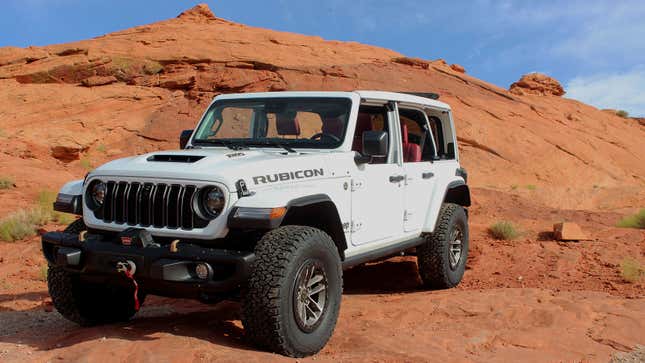 A Wrangler For The Lifestyle Seekers
To me, the idea of riding a Jeep around town with no roof and "All The Small Things", by Blink-182 blaring is a real American vibe. It's something I've wanted a taste of since moving here and I'm pleased to say I finally tried it – and it did not disappoint.
For this particular field test, I hopped in an automatic Rubicon, folded back the fabric roof and set off. On the highway, the Wrangler is fine. With the 3.6-liter V6 motor installed, you get 285 hp – making this the middle child of Jeep's internal combustion engine Wranglers. With this engine, there's a pleasing rumble when you set off and there's plenty of grunt under the hood to blast you up to speed. But when cruising on the highway, you notice how much steering you need to do to stay on the straight and narrow. Despite following a relatively straight road, I found myself making constant tweaks to stay in lane.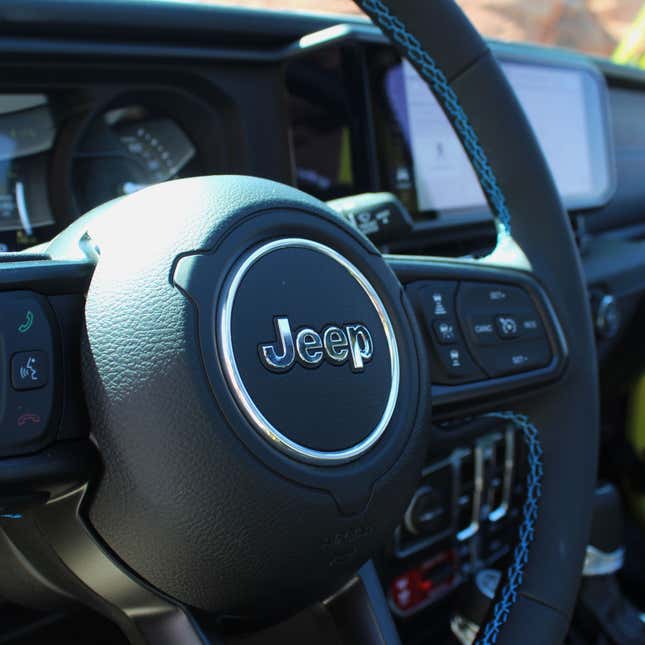 However, that steering was much more predictable at slower speeds. When undertaking maneuvers like parking or navigating a town center, the steering was light and visibility around the Wrangler was great. Parking in parallel or bays, was aided further by a backup camera, which displayed a super crisp image on the center console.
That screen is also where you control the stereo, which sounds pretty good with my chosen pop punk playlist blaring. I'd like a little more bass, but it was loud enough to be heard over the wind that rushed through the open roof. Speaking of that open roof, folding the fabric top entirely away remains straightforward. The rear window comes off first and is followed by two side panels, which are stowed in the trunk. Then, the roof folds back and locks into place with a switch on either side of the frame. Now, you're ready to soak up the sun.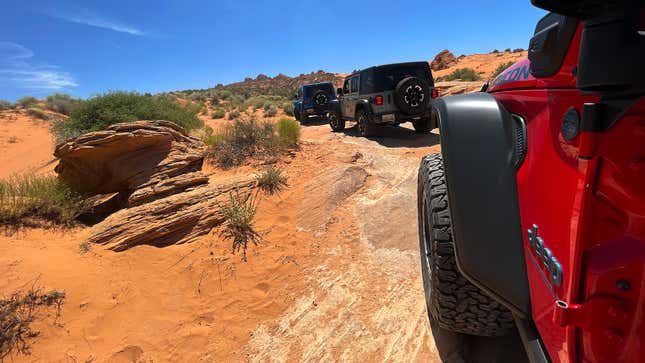 A Wrangler For The Off-Road Adventurers
But I'm aware that not every Wrangler driver lives their life like a "Zoolander" character. Some of them like to head off the tarmac and onto America's trails. So, I hopped in a Rubicon 4XE and did just that.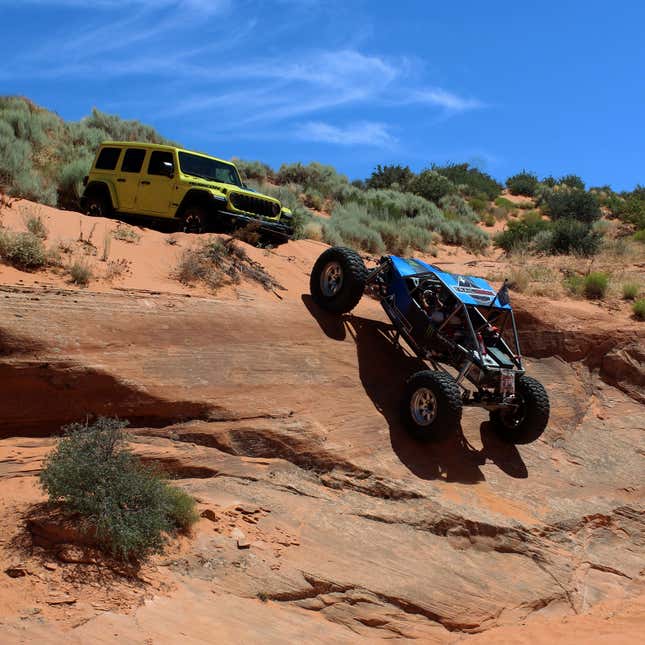 In the Rubicon 4XE, which starts at $60,585, you get a two-liter turbocharged plug-in hybrid powertrain that packs 375 hp and provides an all-electric range of up to 21 miles. Jeep will also throw in a heap of off-road tech to make taking to the trails an obvious option for any Wrangler owner. This includes a Rock-Trac part-time transfer case with a 4:1 ratio, an electronic front sway-bar disconnect to keep your tires engaged with the trail, and front and rear lockers. The important angles on the Wrangler include 47.4 degree approach, 27.8 breakover and a departure angle of 40.4 degrees. There's also 12.9 inches of ground clearance.
For 2024, Jeep is also launching its new Trails Offroad software, which is free for two years on all new Wranglers. The software includes 200 fully mapped trails across America. On each, you'll find maps that include waymarkers and all manner of cutesy symbols to show you what to expect on the trail – such as a blue lightning bolt to signal EV charging and a small ghost to warn you of any ghost towns. After two years, you'll have to upgrade to the full package, which is $39.99 a year and gives you access to more than 3,000 routes – you can also upgrade to this before the two years is up if you want more maps to explore.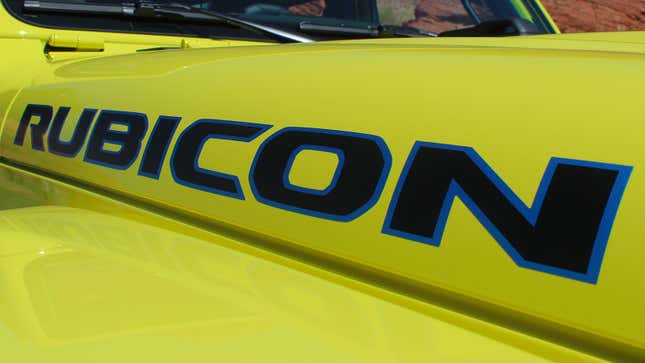 When you're ready to attempt one of these trails, the Wrangler will no-doubt take it in its stride. The one I ran clocked in at four out of ten on Jeep's own scale and covered deep sand, rock faces to scramble up and all manner of boulders to navigate. With the low-range gears engaged, the Wrangler was easy to control and, in the 4XE, you could even tackle the trails on battery power alone. Then, you could hear the interaction between tire and trail easily and, with the doors off, you could quickly peek down and check which way your tires are pointing. If you'd rather keep the doors on to stop your hair filling with sand, the new Rubicon X comes with a front-facing camera as standard and you can set the screen to show all four tires and graphics that indicate if the lockers or sway bars are engaged.
When heading downhill, the Selec Speed function was fun to try out. This lets you set the car up to stick to a speed of between 0.6 and six miles per hour. With this engaged, all you have to worry about is making sure you're turning the wheel the right way.
On a trail like this, it really did feel like the car wasn't phased by anything and I was merely guiding it along the path.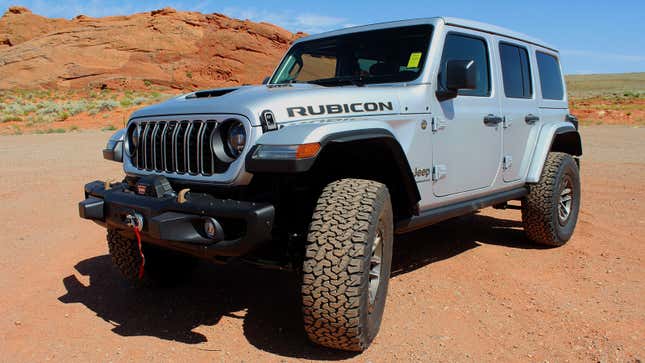 A Wrangler For The Red, White And Blue Blooded Americans
If you just want a Wrangler because it's proudly American, then the new one will suit you to a T. According to Jeep, the Wrangler is one of the most patriotic cars you can buy in the U.S., and that shows with the stars, stripes and little American flags that you'll find on almost every surface. Nowhere is the feeling of Americana greater than in the Rubicon 392.
This top-of-the-line Wrangler starts at $87,595 and comes equipped with a 6.4-liter Hemi V8 that kicks out 470 hp and 470 pound-feet of torque. It also throws out a heck of a noise.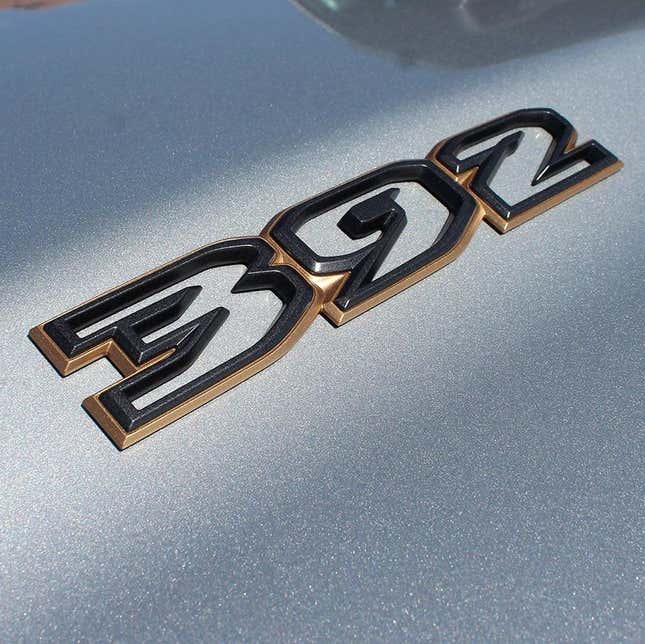 When you start it up, there's a heartwarming rumble as the car barks into life. This can be turned down a notch thanks to the active exhaust control that drops the engine noise. But I'm in the desert in a Hemi-powered Wrangler, so I won't be dipping any engine notes. Jeep must believe its buyers won't be dipping engine notes all too often either, as the company has fitted a standard seven microphone array into the 2024 Wrangler to better pick up your voice commands for the built-in Alexa system.
But while making advances to ensure you're heard in the cabin, Jeep hasn't done much to reduce the sound seeping through its Sky One-Touch powertop. Sure, the High Altitude, Rubicon X and Rubicon 392 models now come with thicker carpets and additional sound deadening, but there's still very little insulation in the powertop. This means that if you've got this roof and that V8 engine, you're going to hear a lot of it – as I did on my drive back to St. George.
It's a lot, but the Rubicon 392 was a whole heap of fun to drive and got me back to the hotel with a huge grin on my face. But it comes with its downsides, and fuel economy for this model is rated at just 13 mpg city and 17 on the highway. So as Jeep follows its fellow automakers down a cleaner street, I'm left thinking that this particular model's days might be numbered.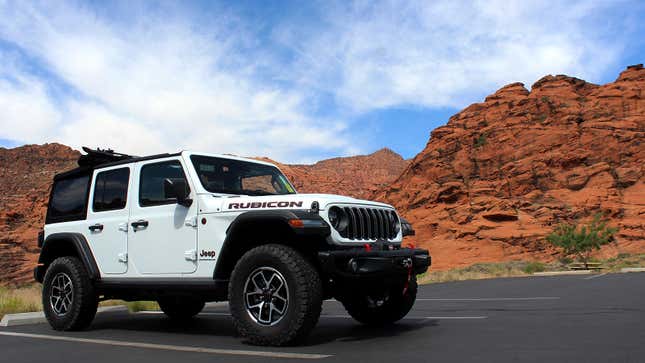 So, Is The 2024 Jeep Wrangler Worth Upgrading To?
The 2024 Jeep Wrangler does not disappoint. It remains a super capable off-roader but keeps its quirks when you're navigating cities and highways. Across the new model year, features like the all-electric seats, standard 12.3-inch screen and the factory-installed winch are enough to make this new Wrangler continue appealing to all manner of owners.
However, I feel like additions such as Trail Mapping, its impressive 4×4 systems and water fording capability of up to 34 inches are Jeep's way of saying to anyone that buys one "please, just try taking it off road." And, after my afternoon in the desert, I'm inclined to say that this is probably the best way to enjoy your Wrangler.