[ad_1]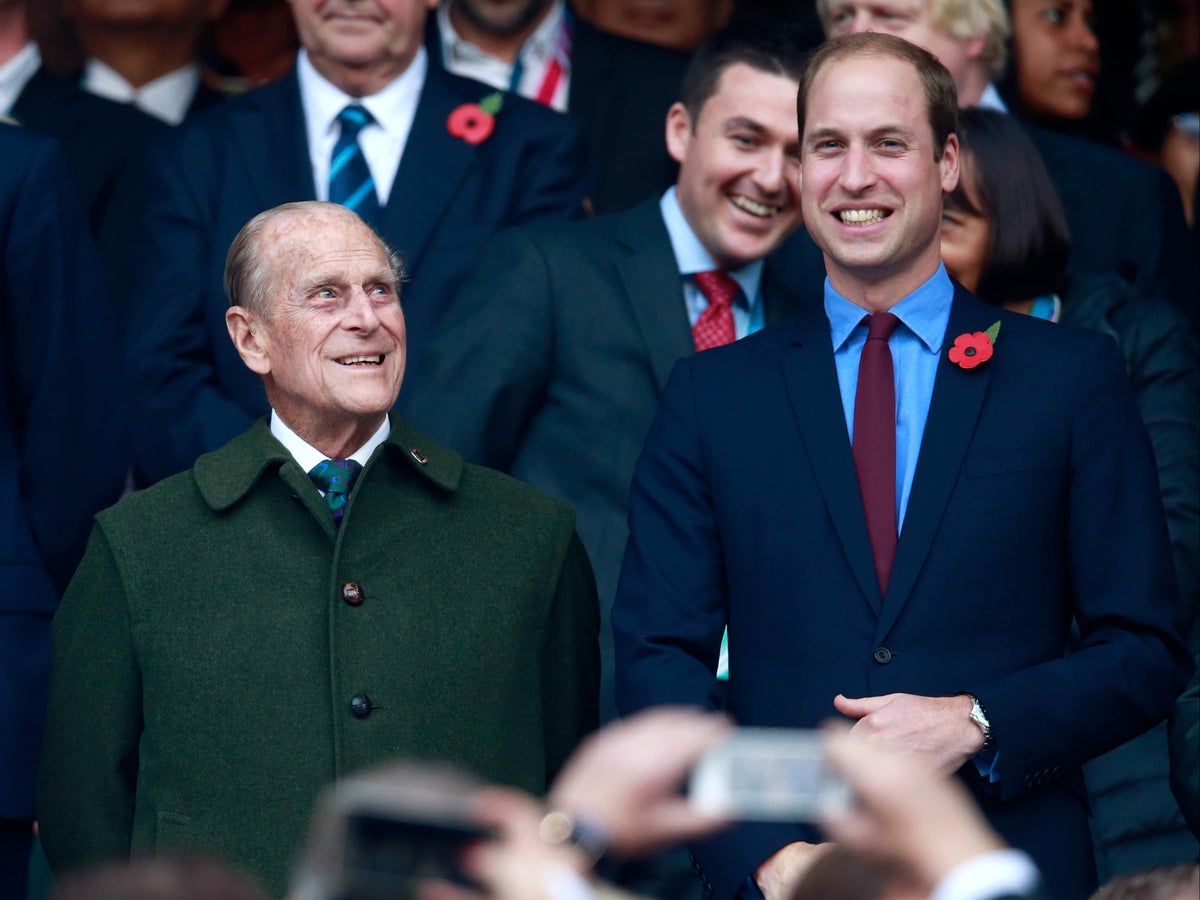 The Prince of Wales had an amusing reaction as he was told a cheeky story about his grandfather, the late Duke of Edinburgh.
Prince William visited the East Belfast Mission at the Skainos Centre in Northern Ireland on Tuesday as part of his Homewards initiative to combat homelessness in the United Kingdom. During his visit, the royal was told an anecdote about Prince Philip's work with the charity, which provides a range of homeless support.
According to Hello! magazine, William was being shown around the centre by Reverend Brian Anderson when the minister stopped to tell him a story about his grandfather. The reverend recalled how Prince Philip had used some expletive-filled language during his last visit to the charity in 2008, when he asked why the new building for the East Belfast Mission had not been built yet.
"He just immediately asked, 'Why don't you just give them the money?'" the reverend told William about his grandfather. "There was an expletive in there but I'm not going to say that. And three weeks later the money turned up."
The father of three replied, "That sounds like my grandfather."
As he greeted well-wishers outside the East Belfast Mission, he reportedly smiled as he told the crowd: "The Reverend has been telling me stories about my grandfather."
The royal also joked that he will be in trouble after hugging one fan during his walkabout in Belfast. "I'll get into big trouble," William said, after he hugged 57-year-old Debbie Johnston.
Following the Duke of Edinburgh's death in April 2021, the Prince of Wales shared a touching tribute to his grandfather's commitment to "his country and Commonwealth, to his wife and Queen, and to our family."
"I feel lucky to have not just had his example to guide me, but his enduring presence well into my own adult life – both through good times and the hardest days," William said in a statement.
He also made reference to his wife – Catherine, the Princess of Wales – and their three children, Prince George, nine, Princess Charlotte, eight, and Prince Louis, five. "I will always be grateful that my wife had so many years to get to know my grandfather and for the kindness he showed her," William said. "I will never take for granted the special memories my children will always have of their great-grandpa coming to collect them in his carriage and seeing for themselves his infectious sense of adventure, as well as his mischievous sense of humour!"
"My grandfather was an extraordinary man and part of an extraordinary generation. Catherine and I will continue to do what he would have wanted and will support the Queen in the years ahead," he added. "I will miss my Grandpa, but I know he would want us to get on with the job."
The Prince of Wales' visit to Northern Ireland comes as part of his mission to launch Homewards, a five-year project from The Royal Foundation that seeks to tackle homelessness.
[ad_2]

Source link