[ad_1]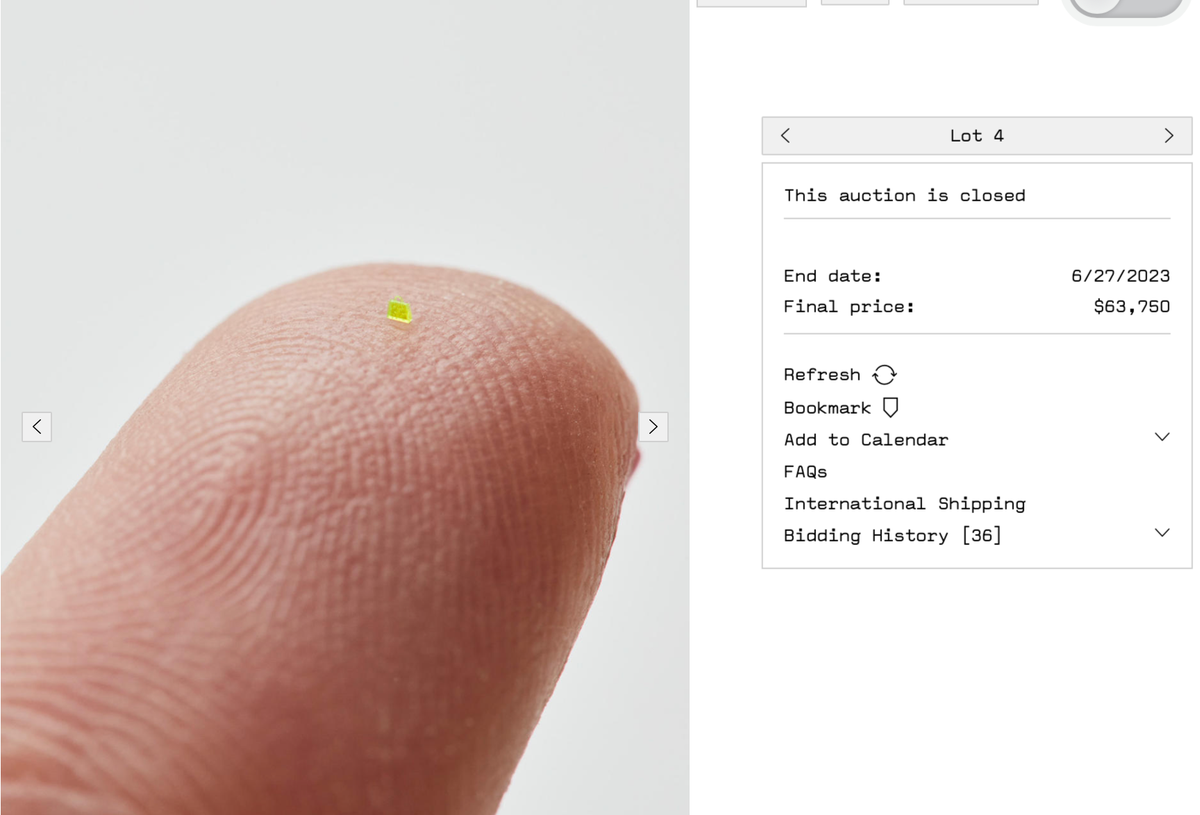 A microscopic handbag that is "smaller than a grain of salt" has been sold for over $63,000.
The miniscule handbag, made by Brooklyn-based art collective MSCHF, was auctioned last week by Joopiter. The auction house, which was founded by Pharrell Williams, sold the yellow-green fluorescent purse for $63,750 on 27 June. This came days after it was first auctioned for a much lower price of $15,000.
The tote bag, which only measures 657 by 222 by 700 microns, was created by "2-photon polymerization printing methods", according to Joopiter. It was sold alongside a microscope that "features a built-in digital display", in order for the buyer to view the purse.
On Instagram, MSCHF described the bag as "smaller than a grain of salt". According to the company, the handbag is "narrow enough to pass through the eye of a needle".
"This is a purse so small you'll need a microscope to see it. There are big handbags, normal handbags, and small handbags, but this is the final word in bag miniaturization," the brand explained in the caption of its Instagram post.
"As a once-functional object like a handbag becomes smaller and smaller its object status becomes steadily more abstracted until it is purely a brand signifier," MSCHF added.
The tiny purse also appears to be a knockoff of a Louis Vuitton purse, as it features an LV label in the middle of it. The design is also similar to the logos on the Louis Vuitton's "OnTheGo" handbag, which retails for anywhere between $3,100 and $4,300.
Speaking to The New York Times earlier this month, MSCHF's chief creative officer, Kevin Wiesner, confessed that he did not ask for permission to use Louis Vuitton's logo on the bag. "We are big in the 'ask forgiveness, not permission' school," he said.
However, he went on to acknowledge that the luxury brand's creative director of menswear, Pharrell Williams, has been a fan of strangely sized objects. "Pharrell loves big hats, so we made him an incredibly small bag," Wiesner added.
When MSCHF first shared the photo of its mini bag on Instagram, people didn't hesitate to poke fun at its size in the comments.
"Finally a bag that fits all this cash," one joked, while another quipped: "I think it's pretty average sized tbh."
A third added: "I'm gonna steal it and eat it so no one can have it."
After it was founded in 2016, MSCHF has continued to make headlines for some of its controversial products. In March 2021, Nike sued the art collective over a pair of "Satan Shoes" launched in collaboration with Lil Nas X.
The sneakers, priced at $1,018 per pair, were made using Nike Air Max 97s and contained a drop of human blood. The shoes also featured a pentagram pendant and a reference to Bible verse Luke 10:18 — "I saw Satan fall like lightning from heaven."
Nike alleged in the lawsuit that MSCHF's "unauthorised Satan Shoes are likely to cause confusion and dilution and create an erroneous association between MSCHF's products and Nike."
At the time, the sneaker brand also issued a statement: "We do not have a relationship with Little Nas X or MSCHF. Nike did not design or release these shoes and we do not endorse them."
Earlier this year, MSCHF also divided people with the launch of its "Big Red Boot". Before the item went on sale in February, fans compared the cartoonish shoe to  shoes worn by cartoon characters like Ronald McDonald or Dora The Explorer's sidekick, Boots.


[ad_2]

Source link