Georgia ends national championship drought and more headlines that topped college football in 2022
When you spend your life watching sports, you begin to understand exactly what each sport brings to the table.
The NBA brings a connection to the youth of today, of being consistently introduced to the next batch of above-the-rim stars as 19-year-olds take over the league.
Major League Baseball is nostalgic, reminding you of the simpler times – when "baseball was life" and the only thing that mattered was the bat, ball and the glove. 
The NFL is deeply rooted, with fandom passed on from father to child regardless of the pain it may bring. 
DEION SANDERS GETS FORMER TOP RECRUIT TO FOLLOW HIM TO COLORADO
And then there's college football.
It's the sport that brings us back to our best days each Saturday during the fall. When our adult lives were just getting started, our eyes wide with innocence as the world was splayed in front of us, ripe for the picking.  
You see, college football provides the deepest connection with its fans.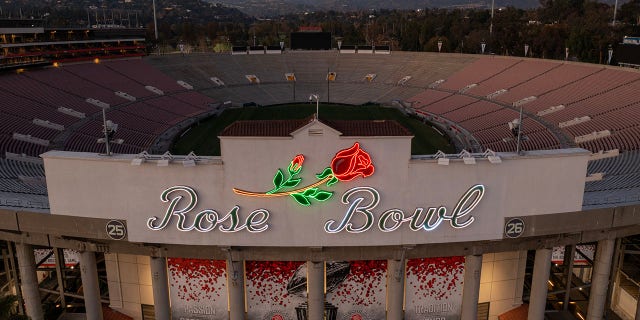 Fans either attended the university they cheer for or they have a family or regional tie so deep that the school is part of their soul.
Since each collegiate roster gets a fresh crop of players every four years, the allegiance is not really to the players. It's to the colors, to the college town that holds such a special spot in our souls. 
CLICK HERE FOR MORE SPORTS COVERAGE ON FOXNEWS.COM
College football allows us to see the different parts of our beautiful country that make the United States the best darn country in the history of mankind.
From the Pacific Northwest to The Plains, down through the bayou and into the Deep South, each weekend of college football gives us a glimpse into a different culture.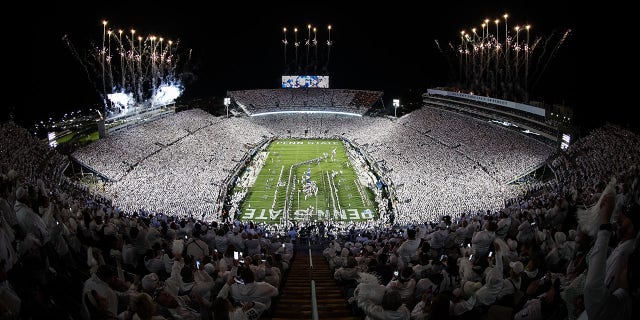 Each corner wonderfully American in its own way.
Each with a unique tie to college football.
So, let's take a dive into the wonderful ride that was the 2022 college football season.
Georgia wins its first national championship since 1980 – January 2022
It was finally time for the student to defeat the teacher.
After suffering its first defeat of the season to Nick Saban and Alabama in the SEC Championship Game, Kirby Smart won the only game that mattered, defeating Alabama 33-18 in the national championship game.
NO. 1 GEORGIA WINS SEC TITLE OVER NO. 14 LSU IN DOMINANT FASHION
Former walk-on Stetson Bennett threw for 224 yards and two touchdowns, and the Bulldogs snapped a 40-year championship drought.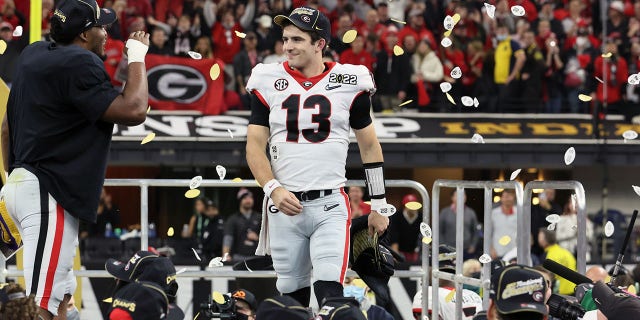 "How about this university? How about these fans? This is a special moment for the University of Georgia, a special moment for this team," Smart said in his postgame interview.
It was Smart's first win against Saban and just the second time the seven-time national champion had been defeated by a former assistant.  
Jimbo Fisher and Nick Saban trade barbs through the media – May 2022
With name, image and likeness taking over college football, it was inevitable that feelings were going to be hurt.
Texas A&M had a monster offseason, with Jimbo Fisher bringing in the top-ranked class of 2022.
CLEMSON'S DABO SWEENEY GIVES HIS UNIQUE TAKE IN NIL: 'WE BUILT THIS PROGRAM IN GOD'S NAME, IMAGE AND LIKENESS'
The grumblings began early that A&M was "buying" its players, a rumor that Nick Saban seemed to get behind.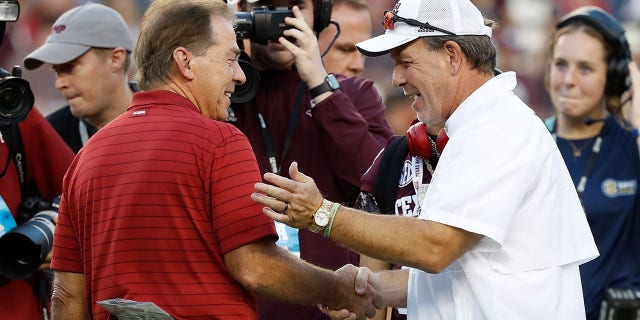 At a May conference, Saban said Texas A&M "bought every player on their team."
Fisher didn't appreciate the accusation and called a press conference in order to refute the claim and blast Saban in the process.
"Some people think they're God. Go dig into how God did His deal. You may find out about a guy, a lot of things you don't want to know. We build him up to be this czar of football. Go dig into his past or anybody who's ever coached with him. You can find out anything you want to find out what he does and how he does it," Fisher said.
CLICK HERE TO GET THE FOX NEWS APP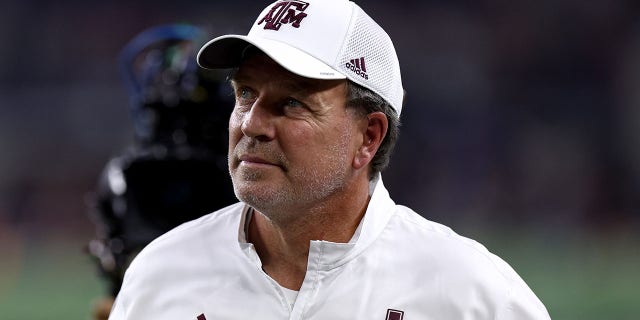 "I don't cheat. I don't lie. If you did my old man slapped me across the face. Maybe someone should have slapped him (Saban)," Fisher said.
The two reportedly put the spat behind them, but it sure did make for some offseason fun. 
USC, UCLA announce departure from Pac-12 conference – July 2022
UCLA playing at Rutgers? USC taking on Penn State in Happy Valley? 
It may sound strange, but it's time to get used to the two West Coast programs playing in the middle of the country each year.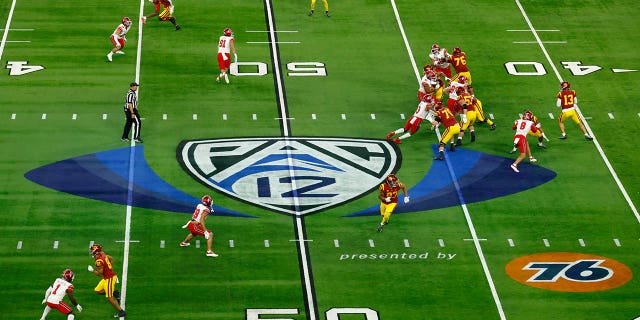 The Trojans and the Bruins announced that they will join the Big Ten in August 2024, leaving the Pac-12 to wonder what will become of West Coast football. 
Tennessee returns to prominence – October 2022
It had been nearly 16 years and six coaches since Tennessee last beat Alabama.
But on a beautiful fall day in Knoxville, the Vols finally vanquished their Nick Saban demons.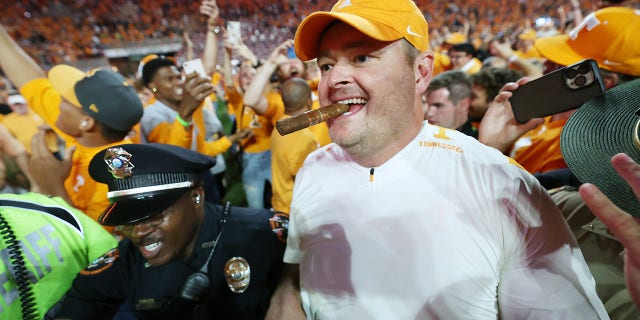 In a game that will go down as one of the great regular season college football games of all time, No. 6 Tennessee beat No. 3 Alabama 52-49 at Neyland Stadium. 
DEION SANDERS' SON, QUARTERBACK SHEDEUR, TRANSFERS TO COLORADO
After a wild four quarters, Tennessee kicker Chase McGrath nailed a 40-yard field goal as the clock expired and Neyland Stadium emptied onto the field. 
"This is college football at its absolute best," Vols coach Josh Heupel said. "We were the best team on the field tonight. That's all we can control."
Tennessee had been 0-15 against Saban since he took over at Alabama in 2007, and the win catapulted the Vols to the No. 1 spot in the CFP rankings for the first time in program history.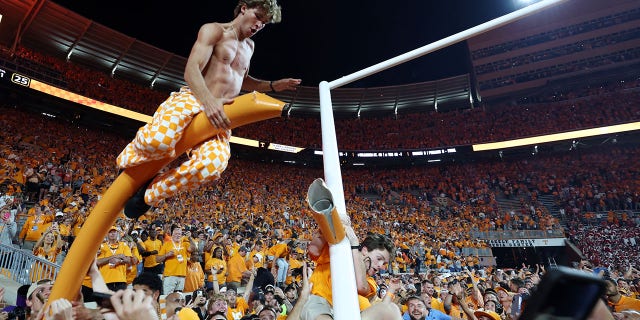 ARCH MANNING, NEPHEW OF LEGENDARY NFL BROTHERS, OFFICIALLY SIGNS WITH TEXAS
Two weeks later, it all came crashing down in Athens as Georgia handled quarterback Hendon Hooker and Tennessee. 
Two weeks after that, South Carolina ended Tennessee's national championship hopes by hanging 63 points on ol' Rocky Top. 
But the verdict was already in – Tennessee is back. And college football is better for it. 
12-team playoff – December 2022
It took a few months of negotiating, but the College Football Playoff will expand to 12 teams starting in the 2024-25 season. 
The College Football Playoff Board of Managers voted to expand the playoff to 12 teams in September, with an eye on the 2026 season for the first year with the expanded field. 
JD DANIELS, ONCE HIGHLY SOUGHT-AFTER QB RECRUIT, TRANSFERS TO FOURTH SCHOOL: REPORT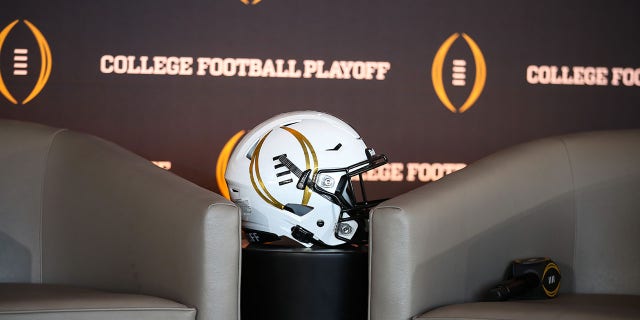 But the Rose Bowl's decision to amend its contract for the 2024 and 2025 seasons allows the CFP to expand from four teams to 12 officially in 2024. 
There are certainly going to be those who oppose the new format, as it's nothing more than a money grab for the schools and conferences. 
But will anyone be complaining when there are more meaningful playoff games in December? It's doubtful. 
Prime Time in Boulder – December 2022
It was only a matter of time before an FBS school gave Deion Sanders a shot. 
After going 27-6 at FCS Jackson State, Sanders will look to revitalize the once-proud program in Boulder as he becomes the next head coach at Colorado. 
SHANNON SHARPE ROASTS DEION SANDERS OVER AMPUTATED TOES: 'I THOUGHT YOU WAS MAGIC'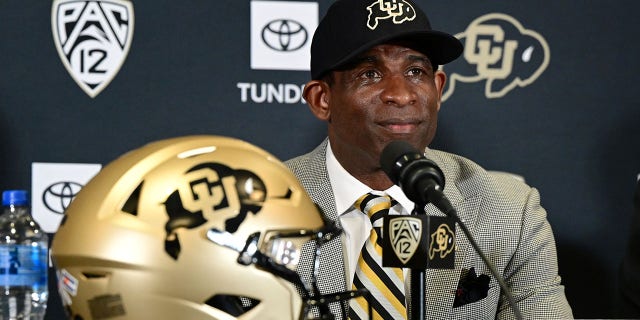 The Colorado program has fallen on hard times, firing head coach Karl Dorrell after an 0-5 start to the season. The Buffs ended their 2022 campaign 1-8 in the Pac-12 and were blown out by Utah in their final game, 63-21. 
Sanders' arrival in Boulder has already brought energy to the program, with Prime Time getting two 2023 ESPN 300 recruits and the commitment of his son, quarterback Shedeur Sanders. 
Mike Leach – December 2022
The college football world was devastated on Dec. 12 when it learned that Mississippi State head coach Mike Leach died of complications from a heart condition. 
Leach, known affectionately as "The Pirate," was one of college football's most eccentric personalities.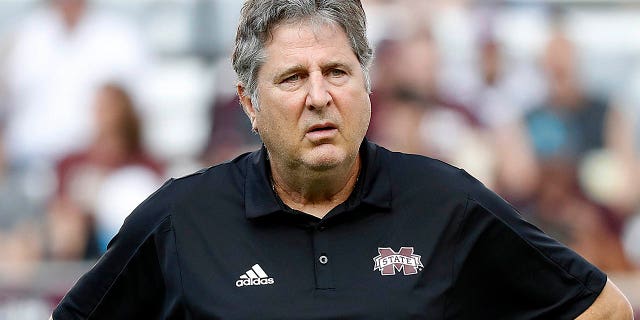 Leach spent 21 years as a head coach, with stops at Texas Tech and Washington State before becoming the head coach in Starkville in 2020. 
MIKE LEACH, LONGTIME COLLEGE FOOTBALL COACH, DEAD AT 61
He went 158-107 in his 21 seasons, going 8-9 in bowl games. 
Well known for the "Air Raid" offense, Leach has an impressive coaching tree, with Arizona Cardinals' Kliff Kingsbury, USC head coach Lincoln Riley, TCU's Sonny Dykes, Tennessee's Josh Heupel, and Houston's Dana Holgorsen all coaching under Leach. 
"There's a ball game going on right now in heaven," former Oklahoma head coach Bob Stoops said at Leach's memorial. "And can't you just see Mike? It's 4th & 2, he's on his own 40, and you know he's going for it."
2022 College Football Playoff
No. 1 Georgia was matched up against No. 4 Ohio State, while No. 2 Michigan went up against No. 3 TCU – the newcomer to the CFP – on New Year's Eve. 
REGGIE BUSH RIPS OUTGOING OUTGOING NCAA PRESIDENT MARK EMMERT OVER HEISMAN TROPHY ISSUE
The Bulldogs got the opportunity to become the first to win back-to-back national championships since Alabama did it in 2011-12. 
It's been a wild ride in college football since January 2021, and it isn't close to being over. 
Enjoy bowl season. There's nothing better than being a college football fan.