'Everything, Everywhere All At Once' wins seven Academy Awards | The Express Tribune

LOS ANGELES:

A German remake of World War One epic All Quiet on the Western Front won the Oscar on Sunday for international feature, and multiverse adventure Everything Everywhere All at Once claimed two acting trophies at the film industry's highest honours.
Both movies were in the running for the coveted best picture prize at the Academy Awards, where celebrities gathered to celebrate a year that brought crowds back to theatres.
All Quiet, which streamed on Netflix, depicts the horrors of trench warfare through the eyes of a young man initially keen to join the fight. Director Edward Berger thanked the film's young star, Felix Kammerer, who joined him on stage. "This was your first movie, and you carried us on your shoulders as if it was nothing," Berger said. The film also won Oscars for original score, cinematography and production design.
Brendan Fraser's best actor Oscar win on Sunday for his powerful performance as a morbidly obese man in The Whale caps a remarkable career comeback for the charismatic leading man. The former star of 1990s hits such as The Mummy endured a decade in the Hollywood wilderness before winning over Academy voters with his portrayal of a reclusive teacher who eats compulsively as he is tormented by grief.
"So this is what the multiverse looks like," an emotional Fraser told the audience at the Dolby Theatre. "I started in this business 30 years ago, and things – they didn't come easily to me, but there was a facility that I didn't appreciate at the time until it stopped," he said, referring to his long absence from the big screen.
Michelle Yeoh won the Academy Award on Sunday for best lead actress for her role as a Chinese American laundromat owner dealing with family turmoil in "Everything Everywhere All at Once", becoming the first Asian woman to win in the category.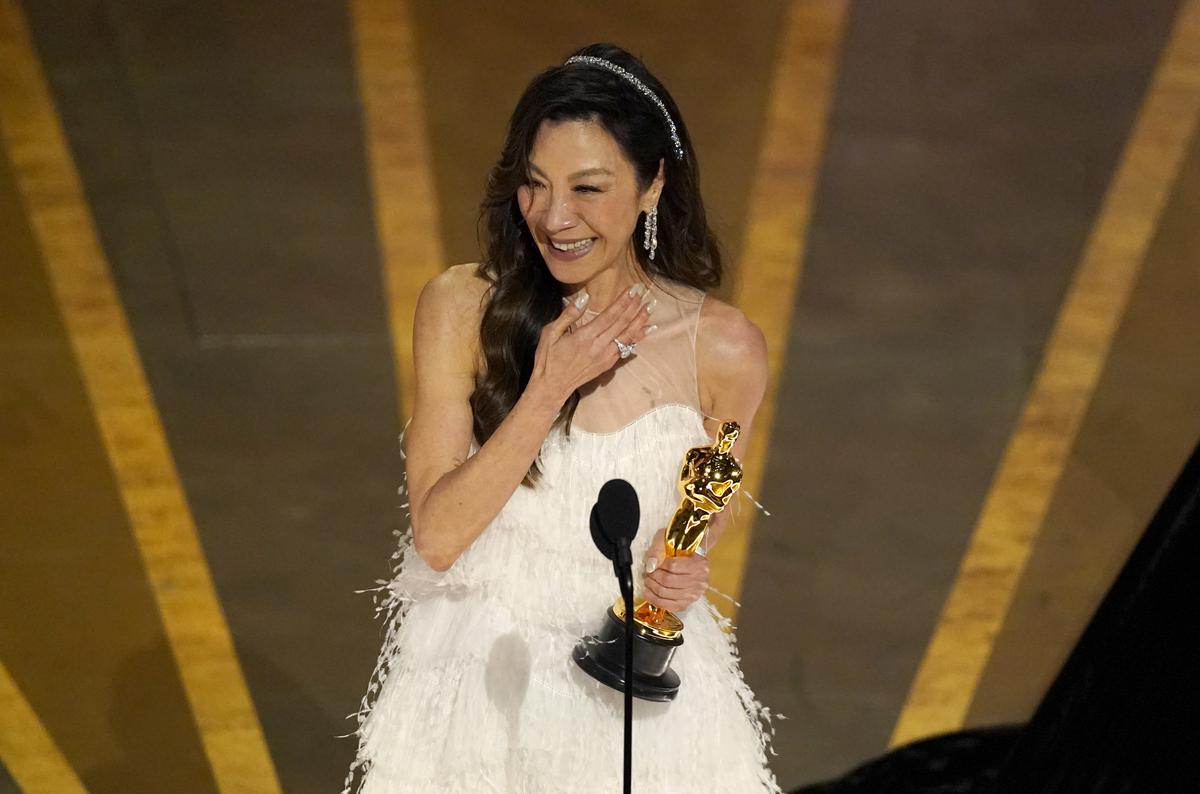 Yeoh, 60, was widely regarded as the front-runner for the award after claiming a Screen Actors Guild honour and a Golden Globe award for the role. This was her first Oscar nomination.
Ke Huy Quan, a one-time child star who gave up acting for two decades, and Hollywood veteran Jamie Lee Curtis won supporting actor and actress for their roles in the offbeat Everything Everywhere. A weeping Quan, who was born in Vietnam, kissed his gold Oscar statuette as he held it on stage at the Dolby Theatre in Los Angeles in front of the biggest names in show business.
"My journey started on a boat," Quan said. "I spent a year in a refugee camp. Somehow I ended up here on Hollywood's biggest stage."
As a boy, Quan starred in a 1984 Indiana Jones movie and The Goonies in 1985. The 51-year-old said he had quit acting for years because he saw little opportunity for Asian actors on the big screen. "They say stories like this only happen in the movies," he added. "I cannot believe it's happening to me. This is the American dream."
Quan's co-star Jamie Lee Curtis, who built a career in horror films such as Halloween, won best supporting actress for playing a frumpy tax auditor named Deirdre Beaubeirdre. Curtis, 64, looked upward and addressed her late parents, Academy award nominees Tony Curtis and Janet Leigh. "I just won an Oscar," she said through tears.
Crisis response team on hand
A crisis response team was on hand in case of an unexpected twist. The group was formed after Will Smith smacked Chris Rock on stage last year, tarnishing the film industry's most prestigious ceremony. At the start of the show, two US military aircraft flew over the Oscars theatre, and host Jimmy Kimmel landed on the stage by parachute, in a tribute to best picture nominee Top Gun: Maverick.
Comedian Kimmel joked in his opening monologue about the audience reaction to Smith's attack last year. "If anything unpredictable or violent happens at the ceremony, just do what you did last year – nothing," he told the crowd of A-list celebrities. "Maybe give the assailant a hug."
Kimmel also brought a surprise guest: Jenny, the scene-stealing donkey from best picture nominee The Banshees of Inisherin. Guillermo del Toro's "Pinocchio" was named Best Animated feature.
The film Navalny about the poisoning that nearly killed Alexei Navalny, Russia's most prominent opposition leader, and his detention since his 2021 return to Moscow, won the Oscar for best feature documentary. "Alexei, I am dreaming of the day when you will be free and our country will be free," his wife, Yulia Navalnaya, said on stage. "Stay strong my love."
The 95th Academy Awards ceremony was broadcast live on Walt Disney Co's ABC network. The Academy of Motion Picture Arts and Sciences hoped to move past the slap and stage a glitzy show and boost sagging TV ratings. Last year, the television audience for the Academy Awards ranked as the second-lowest ever.
Ahead of the awards, nominees dressed in designer gowns and tuxedos touted their movies on a champagne carpet in place of the traditional red. Several of 2022's biggest hits at the multiplex were competing in the best picture race, from Top Gun: Maverick and Everything Everywhere to Elvis and Avatar: The Way of Water.
Have something to add to the story? Share it in the comments below.