Aima calls out festival organisers for 'misusing' her name | The Express Tribune
Aima Baig, after stepping back from a concert over an issue of non-payment, has claimed that the organisers of the event used her name for ticket-selling purposes.
The concert, part of a three-day festival namely Pak Fest, took place on March 12, Sunday, at the Khayaban e Amin Cricket Stadium in Lahore. It featured several other artists including Ali Zafar and Kaifi Khalil. This was the second edition of the music festival.
Detailing the problem, Baig took to her Instagram Stories last night to explain, "Hi guys, I am writing this note to express my disappointment [at a festival] for using my name for ticket-selling [purposes] after an issue of non-payment."
Naming and shaming the event and its organisers for not removing her name from their page and tickets, despite her refusal to perform, she added, "I regret to participate in Pak Fest Lahore. And instead of removing my name from the participation, the organisers were making money."
Baig maintained that her fans were misled into buying the tickets while she and her team did not receive any explanation from the event's management. "They were misusing my name and my fans were buying the tickets to watch me. We have received no explanation from Pak Fest Lahore, which has cost me undue stress and inconvenience."
The singer emphasised that she is disappointed by the "unprofessional" behaviour displayed by the team of Pak Fest, and termed it defamatory, "as people who love and watch my concerts bought the tickets while I didn't join due to a payment issue."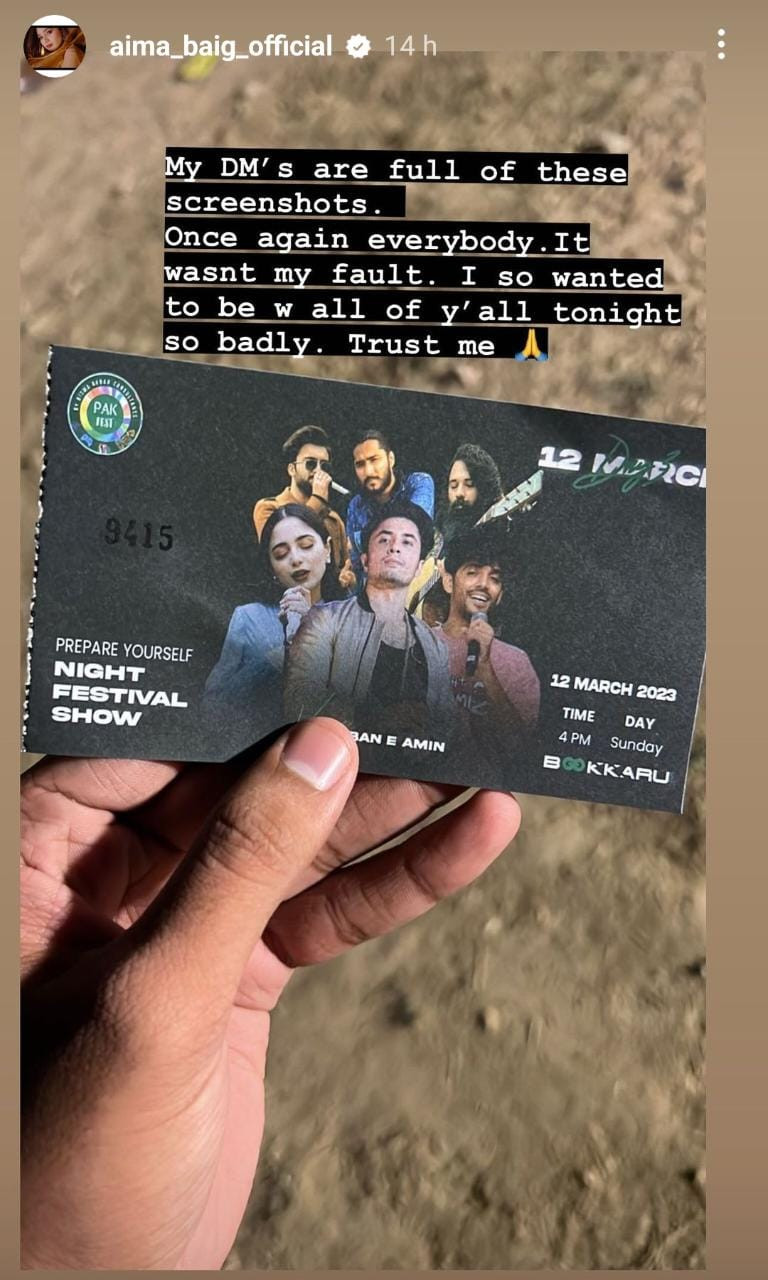 Tagging the page of Pak Fest, she added, "I urge you to take immediate action to rectify this situation." The Rent-Free singer also shared a picture of the ticket in another Insta Story to add, "My DMs are full of these screenshots. Once again everybody, it wasn't my fault. I wanted to be with you all tonight so badly, trust me."
The event featured performances by multiple artists over several days. Last year, Rapper Bohemia performed at the event. According to Bookkaru, this year's festival had more than nine artists performing. Pak Fest shared posters of singers Ali Zafar, Asim Azhar, Bilal Saeed, Kaifi Khalil, Faizan FBR, 3 TAAL and Soleh Rehman.
Pak Fest organisers did not issue a statement till the filing of this report.
This is a developing story.
Have something to add to the story? Share it in the comments below.